According to Google's Project Oxygen, higher-scoring managers are more likely to have frequent and effective one-on-one meetings with their team members.
Meeting frequently with each team member requires a large time investment, but 1:1s are critical. They help with identifying issues early on and also create opportunities for the manager to provide feedback, and coach team members to be more effective.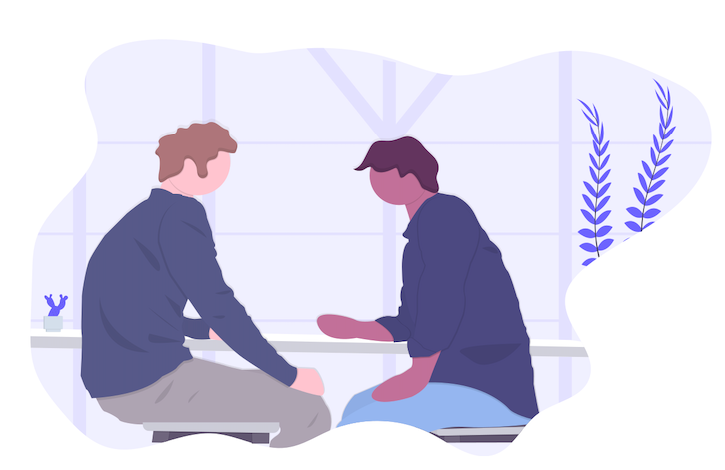 The importance of 1:1s are widely understood but unfortunately that does not necessarily mean 1:1s are being used effectively. Some reasons for that disconnect:
Misaligned expectations between manager and direct about 1:1 meetings.
Lack of preparation. As managers we are always jumping from meeting to meeting. Too often we find ourselves sitting across from our direct and feeling guilty about not being better prepared for this important conversation.
Not collaborating with our direct throughout the week to build an agenda for our 1:1 meeting.
Here is how Managers.App's One-on-One module will help managers hold more effective 1:1 meetings with their directs:
Integrated tools to help you organize and execute effective 1:1 meetings.
View add/update topics and action items while you are taking 1:1 notes.
Access to Conversation Starter questions to identify, and understand what might be blocking your team member and learn how you can offer support.
Access to a shared document which allows your direct to build an agenda for the meeting.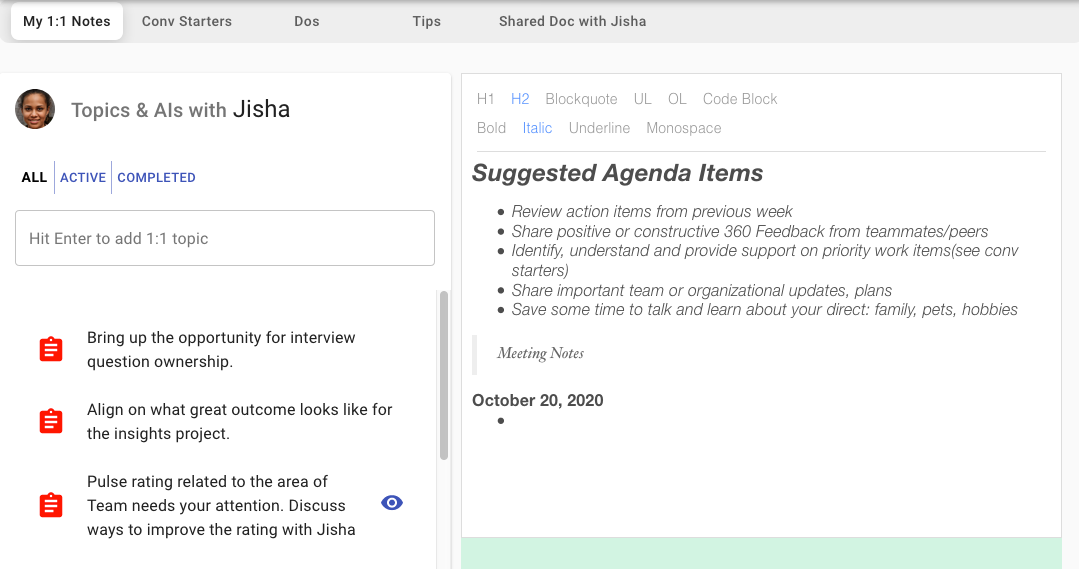 Managers.App automatically creates 1:1 Topics and Action Items.  
When a peer/teammate submits new 360 feedback, Managers.App will add an action item with a summary to your agenda so you can share this feedback with your direct.
When a Pulse survey ❤️ rating needs your attention, Managers.App will create 1:1 topics for you and each of your directs with conversation starters, so you can brainstorm with your direct and figure out how to improve that rating.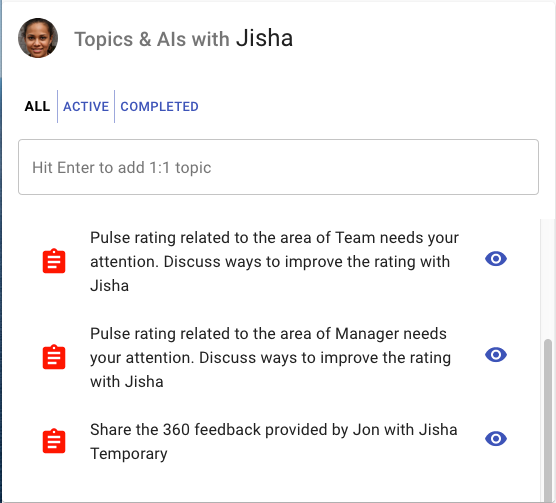 Conducting effective 1:1 meetings with your team is fundamental to building a high output team. As a manager you should do your best to improve the effectiveness of your 1:1 meetings. Managers.App's One-on-One module is available in Free and Pro versions. Learn more about Managers.App and the new One-on-One module at Managers.App.